Movers in Corpus Christi
Packing Services
PACKING AND MOVING SERVICES IN CORPUS CHRISTI
Moving involves multiple steps, and Above All the Rest Moving is here to help you during each one of them. If you want to reduce your moving stress and keep your head above water, our professional packing crews can handle your packing process from beginning to end. Call us today to inquire about our packing services for your move – you won't have to lift a finger!
TIPS FOR SAFE PACKING
If you decide not to invest in packing services from Blue Whale for your move, here are a few tips to help you pack safely and efficiently.
Avoid loading more than 50 pounds into one box.
Purchase special boxes for dishes, wardrobe items, and other special items.
Get the right supplies: boxes, bubble wrap, newspaper, tape, pens, tissue, scissors, etc.
Use strong, securable boxes and containers.
If you can, pack any AV equipment into its original box. Label your cables and tighten screws before moving.
Label each box with information on where it should go if it contains fragile items and its loading order.
Cushion contents with bubble wrap, newspaper, tissues, or even towels and blankets.
Pack your books tightly in small boxes.
Pack any medicines in leak-proof containers.
Clean your rugs and draperies before you move, and keep them in their cleaning wrappings.
Carry all valuables with you – don't pack them.
Set aside prohibited materials: paints, oils, cleaners, chemicals, or any flammable or combustible items.
Don't leave empty space in your boxes – stuff them with packing paper or bubble wrap.
Seal your boxes on the top and the bottom.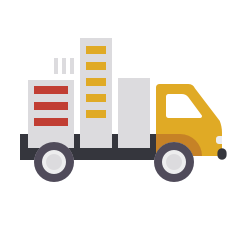 Your best move? Call the expert home movers.
Customers have trusted the Corpus Christi packers and movers at Above All The Rest Moving to make moving as easy as possible. We know every family is different, so we offer a choice of moving services, with solutions for every type of move. From A to Z, count on us for anything you may need to make your move successful.
HIRING A PACKING SERVICE IS WAY EASIER
Doing your own packing is a route that many people take when they are moving, but it comes with a lot of downsides. You have to spend hours and days organizing your home, decluttering your space and sorting your belongings into your moving piles. And that's just the beginning – after you do the pre-packing organization process, you actually have to do the packing. From collecting enough materials to organizing your belongings into boxes to taking measures to make sure that your fragile items don't break along the way, this process can be seriously strenuous. Plus, packing involves a lot of specialized knowledge. Making one mistake can lead to packing catastrophe, such as busted boxes or cracked dishes – on top of moving to a whole new home, this process just adds to your stress and anxiety.
However, hiring a packing service can get rid of all of this stress. Above All the Rest Moving will handle all of your packing needs from start to finish. Trusting us to handle your packing services can provide you with a number of great benefits.
Our packing experts will bring all the materials you need to get your packing done. From boxes to scissors to cushioning, you won't have to source these materials yourself.
We will handle your entire packing process from start to finish – from placing your materials in the boxes to loading them into the van, plus unloading them at your new home.
When it comes to fragile items, you need to know how to pack these items with proper cushioning so they don't break during the move. We know how to handle your items and pack them carefully so no harm comes to them.
Are you ready to invest in a stress-free move in the Corpus Christi area? Call us today to learn more about our affordable packing services!
Get in Touch
(361) 728-2857
Business Hours
Mon – Fri: 8am – 11pm
9am – 1pm: Sunday
What we Do
Local Moving
Long Distance Moving
State-wide Moving
Cross-country Moving
Corporate Apartment Moving
Loading & Unloading
Rental Truck Driving Services
PODS and ABF